Now available for purchase!
Scleral Lens Issues and Complications: Their Recognition, Etiology, and Management, a brand new book from contact lens designer and specialist Daddi Fadel, is now available for purchase in both print and e-versions, as well as by individual chapter.
Order your print or digital copy now!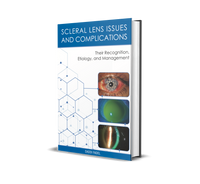 BOOK FORWARDS FROM INDUSTRY PROFESSIONALS
The introduction of gas permeable scleral lenses has once again provided patients worldwide with life changing results that are being achieved worldwide for patients who until now have not had the option of this marvelous lens. The advantage of the sealed gas permeable lens is the relatively ease with which it can be fitted for patients compared to scleral lenses made from impervious materials that were previously available...Daddi Fadel's carefully researched book "Scleral Lens Issues and Complications" is a detailed update and a must read valuable contribution to our knowledge and understanding of today's sealed Gas Permeable Scleral lenses. Daddi Fadel's book is highly recommended to all scleral lens practitioners.

Donald F. Ezekiel. AM Dip.Opt (WA), D.C.L.P, F.A.C.P, F.A.A.O,.F.C.L.S
I have come to respect Daddi's dedication not just to the clinical side, but also to the scientific understanding of scleral lenses and their effects on the eye. She is that rare combination of astute observer and tireless seeker of knowledge who continually strives to broaden her understanding through reliance on sound scientific inquiry and evidence-based clinical practice. She has very quickly come to the forefront of published authors for scleral lenses and a leader on the international stage and is an excellent educator as well. I am impressed by what she has accomplished with the breadth and scope of this book and I fully expect it to become an essential compendium in every scleral lens practice alongside other essential clinical texts such as the Wills Eye Manual.

Greg Gemoules, O.D
MEET THE AUTHOR
Daddi Fadel, DOptom, FSLS, FBCLA
Daddi Fadel is a contact lens designer, a pioneer of modern lens designs, and a specialist in contact lenses for irregular cornea, scleral lenses, myopia control, and orthokeratology.
Read More About the author